News
Opportunity knocks in generator service

Wednesday, July 18, 2012
Written by Brad Kane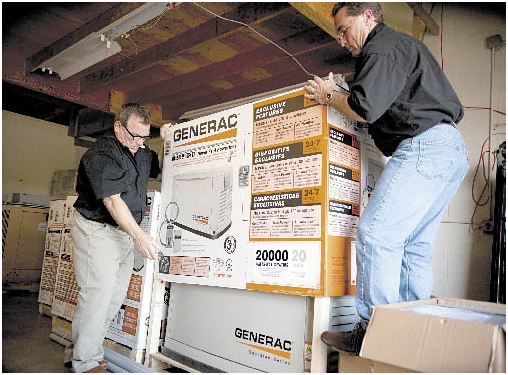 With Ed Ingalls' electrical service business mired in the economic recession for the past three years, the small business owner tried branching out for new sources of revenue for his Newington Electric Co.
First came Connecticut Electric Car in August, as Ingalls tried to capitalize on the effort to build more charging stations for electric vehicles in the state. The new division didn't bolster his bottom line immediately but is providing increasing business.
But Ingalls' second effort — Connecticut Home Generator Systems — is where he really hit a home run, already constituting 25 percent of his business.
Motivated by the two widespread power outages in 2011, thousands of Connecticut businesses and homeowners bought and installed power generators, using both certified and uncertified technicians to get the equipment up and running quickly.
Newington Electric, as a certified dealer for Wisconsin generator manufacturer Generac Power Systems, was primed to take advantage of the exploding market after Tropical Storm Irene in August and the Oct. 29 snowstorm.
As the market dies down over the next year for new generators, Ingalls intends to keep his new Connecticut Home Generator Systems division going by servicing all those recently installed systems, particularly those done by uncertified workers.
"In Connecticut, there were thousands of generators installed. Anybody and everybody who knew anything about electrical work installed them," Ingalls said. "The generators out there really aren't working properly, and the homeowners don't know who to call."
In the first few months of 2012, Ingalls saw problems with home and business generators such as not changing the oil often enough, not letting the generator run occasionally per its system requirements, and other, larger equipment problems.
For the homeowners and businesses that purchased a generator from a company without a service department, Ingalls hopes to fill that void. He has outfitted his Newington-based business with space and resources to perform both minor and major repair work on every type of generator.
"The real business is going to be on the service end," Ingalls said. "There's a potential out there for lots of generators."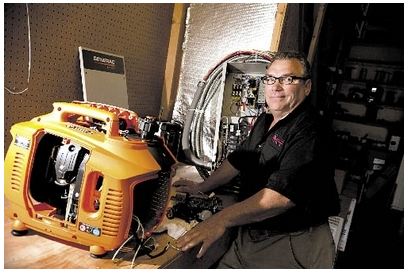 While the generator division has run up to be 25 percent of Newington Electric's business, Ingalls added more generator service technicians to handle the work, bringing his workforce to 24 employees including 16 electricians.
At Tower Generators in Canton, owner Chris Atiyeh said the company received 1,000 inquiries for new generators in the 10 months since Irene and the Oct. 29 snowstorm. In a typically year, Tower Generators might get 250 inquiries.
"Since August, people have reacted extensively to the loss of power," Atiyeh said. "Backup power has been elevated to the front of people's mind for the next 18-24 months."
Tower Generator also has a service department, so — much like Newington Electric — the company will continue to see revenue from the generators it installed.
Atiyeh said with the large increased in installed generators, more electricians will try to get into the service business, but those companies with previous experience will have an advantage over the new competition.
"Training is a huge part of this business," Atiyeh said. "The ability to service and maintain a home generator is extensively different from servicing and maintaining a commercial generator."
Even the generators that were properly installed still need work, said Mark Lawrence, assistant building official for the Town of Wilton.
Lawrence said Wilton Building Department officials still perform generator inspections daily. The biggest problem is generators that were installed in the wrong spot, in a different location than where the town permit gave location approval.
Wilton officials only can inspect the more than 180 home generators that received town permits. The other issues with generators installed by uncertified technicians are harder to track down because they typically did not get a permit, Lawrence said.
"Those are the ones we don't know about," Lawrence said.
Ingalls said without proper maintenance, businesses and homeowners are running a risk the next time an outage hits.
"If they aren't maintaining them properly, next time there is an outage, the generators won't work," Ingalls said.
Ingalls other experiment — Connecticut Electric Car — is more of a long-term investment. The division installed 20 electric vehicle charging stations in its first 10 months, but Ingalls expects the demand to increase as more people buy electric vehicles such as the Nissan Leaf and Chevrolet Volt.
"I'm seeing a need for it," Ingalls said. "That is going to be big."
For now, Ingalls is glad the generator business can bolster Newington Electric as the company saw its first signs of economic recovery in late 2011.
"It is really good in the down economy we have," Ingalls said. "It is nice to see the economy come back a little bit after three years that were just horrendous."
Back to News