News
Local Business Owner's Vision Sparks Electrical Empire

Wednesday, May 6, 2015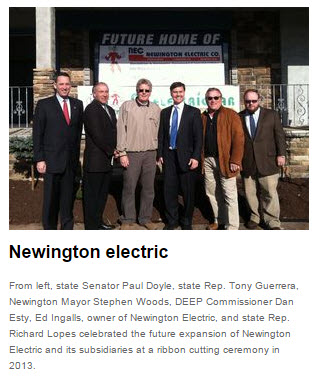 NEWINGTON — If the key to running a successful business is the ability to recognize areas for growth before the competition, then Ed Ingalls, second-generation owner of Newington Electric Company, is the key master. In three short years, he has created three successful subsidiaries to his family's core business: CT Electric Car, CT Home Generator Systems and CT Generator Repair. Now this pioneer will unveil Connecticut's first comprehensive generator showroom and sophisticated service center in May.
In addition to offering numerous standby and portable generators, the service and repair center will specialize in generator repairs, maintenance, factory recall and factory warranty work for Generac power systems. Customers will have the choice to drop their generator off at the repair center or schedule a home pickup and delivery for ultimate convenience. An Electric Vehicle (EV) charging station showroom is also planned to open in July, offering the latest in electric car charging station options available to the public and municipalities.
"This isn't your typical industrial showroom, as we've created a comfortable indoor backyard area complete with grass for families to come and see the many different types of generators from which to choose," said Ingalls. "I want the customer to see exactly what the generator will look like in a realistic backyard setting with both portable and standby units."
After the October 2011 surprise storm created unprecedented demand for home generators, Ingalls immediately launched a separate generator division, predicting continued demand by homeowners who now consider a generator a necessity.
The expansion of Newington Electric Company and its subsidiaries began more than a year ago with a construction of a new 12,000-square-foot space located at 72 Pane Road in Newington. The facility is nearly three times larger than the former location.
In November 2013, the company hosted a ribbon cutting ceremony with legislators, officials and community leaders involved in the EV industry to encourage state residents to consider purchasing an EV. The parking lot offers complimentary, Level Two EV charging stations for anyone needing a quick, free charge.
Ingalls had the foresight to create CT Electric Car just as EVs were entering the market. CT Electric Car has already played a key role in the state's initiative to make Connecticut an EV-friendly state by installing several municipal charging stations in high-profile locations.
Although Newington Electric Company was already one of the state's largest Generac generator dealers for more than 20 years, the expansion into the new facility allows for a one-of-a-kind, in-house authorized factory warrantee service and repair center for Generac generators with highly-trained and certified Generac technicians. The final step is the creation of an interactive, real- world showroom.
To celebrate the completion of the new corporate headquarters, the company will host a Grand Public Open House event in late May.
The investment in a first-class showroom solidifies Ingalls' commitment to both the generator and EV charging divisions. CT Home Generator Systems' main focus will be on the installation of residential standby generator systems, as well as education of its customers on the choices they have when deciding on a home generator system that's most suitable for their current situation, specifically taking into consideration the customers' needs, requirements, concerns and physical limitations. Together with its in-house repair facility and fleet of service vehicles, CT Home Generator Systems will now be offering unsurpassed statewide customer service.
"As more people buy home generator systems, I'm hoping that we will be their go-to installer, repair and service provider," said Ingalls. "We pride ourselves on providing impeccable service and technical expertise that homeowners across the state can rely on when purchasing new systems or needing repair work."
CT Home Generator Systems is a full line dealer for Generac residential and commercial standby products, as well as a full line of portables. It is the only factory-authorized warranty repair and service center for Generac generators in the state that offers convenient pickup and delivery service to one's home or business. For more helpful information on home generator systems, safety and installation, visit CTHomeGeneratorSystems.com or call 855-667-4819.
Beyond providing qualified professional installation by trained licensed electricians, CT Electric Car also offers solid, firsthand information about electric car charging stations. CT Electric Car specializes in the installation and wiring of residential, commercial and municipality car charging stations. The company is licensed in the state of Connecticut by the Department of Consumer Protection and holds an unlimited electrical contracting license.
Newington Electric Company is the parent company of Connecticut Home Generator Systems. Newington Electric offers statewide electrical contracting services specializing in commercial and residential electrical service and repairs. It is a second-generation company founded in 1958 by Richard Ingalls and is now owned and operated by his son, Edward Ingalls. For more information visit newingtonelectric.com or call (860) 667-4819.
Back to News